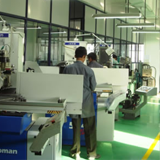 Big improvement in production efficiency at TEK with MyWORKPLAN
Complex toolmaking
The Indian company, TEK Electromechanicals, based in Pune, installed MyWORKPLAN job management software from Sescoi to revolutionize its production management. TEK specializes in the production of automotive electrical connectors, terminals, custom specific automobile & mechatronics components designed to meet the needs of leading companies in the industry, including TATA Yazaki, Yazaki corporation, Valeo, SKF,MTA, Delphi and Tyco, aerospace components & assemblies to GoodRich lighting systems. 26 years ago the company was set up as a toolroom but, it now has developed as development & production center for plastic injection molded parts & sheet metal stamped parts & assemblies.
The tools we make are very complicated and our ability to deliver on time is of crucial importance - it definitely brings in more business. MyWORKPLAN is a vital part of this process and after analyzing the first results, our delivery performance has improved by around 30%."

Mahaveer Khot, Manager of Tool Design and Planning
Addressing toolroom needs
Mahaveer Khot, Manager of Tool Design and Planning, says, "Our industry is very competitive and delivery times are now the most important factor. We have to manage many customer projects simultaneously, which is extremely complex. Many ERP systems are good for managing continuous production where processes and times are easily predicted, but they do not address the special needs of a toolroom at all." Engineers from TEK attended a MyWORKPLAN seminar organized by Sescoi, and were so impressed with the demonstrations that they immediately installed the software.
MyWORKPLAN is designed with project based applications in mind, and is particularly suitable for toolmaking companies. It is able to simplify the production of accurate quotations, manage the load on the shop floor, provide warnings when targets are missed, and enable the precise prediction of delivery dates. Intuitive operation, contextual help, and a tool tips guide make the system easy to learn and install.
Automating difficult production control processes
TEK has ten surface grinders, a profile grinder, a jig borer, three vertical machining centers, three wire cut machines, six spark erosion machines, a range of conventional machinery, and mold assembly and try out facilities. Mahaveer Khot says, "Because the time actually taken by each process is variable, it is very difficult to control production manually. MyWORKPLAN enables us to develop a critical path for the processes involved in each tool. We can then update the plan, live, as each process is completed and we know how long it actually took. If there is a difference between the plan and what happened, the software updates the schedule and warns us where there is an overload. We can then take appropriate action, such as subcontracting or adding extra shifts, to bring production back on target for the many projects being worked on at the same time."
Capacity management
MyWORKPLAN helps considerably at the quotation phase. Knowledge of the load on the workshop enables TEK's engineers to plan the effect of proposed new mold projects on production. They can use this information to provide the customer with realistic delivery times, working back through the schedule to identify bottlenecks and to plan appropriate action to get tools delivered on time. Conversely, if the system finds periods when there is too much capacity, the company can look for extra work to fill it up. Mahaveer Khot says, "MyWORKPLAN has the intelligence to link operations so, for example, if we have a spark eroding operation, the system will link the production of the electrode to it. Clearly this has to be done first. Previously we could have the situation where the spark eroder was idle waiting for the electrode, due to incorrect planning."
Quality & Efficiency
As well as controlling production, MyWORKPLAN also keeps track of quality issues and machine maintenance. Mahaveer Khot adds, "We get a record of rejections, the action taken to resolve problems, and the associated costs. We also have a history of each machine, including its maintenance schedule and list of breakdowns, helping us to gauge efficiency. Furthermore, the information about the progress of each project and its individual problems helps us to avoid making the same mistakes in the future and hence predict costs and times more accurately."
Supporting performance improvement
TEK has two people estimating new work, one person entering production data and another updating and controlling raw material prices and subcontracting activity. Mahaveer Khot says, "The support we get from Sescoi is excellent. We have found MyWORKPLAN to be very user friendly and easy to implement. We have not had any issues with the software."
The company benefits from the reports generated by MyWORKPLAN. These provide up to date cost information and the current status for each project. Mahaveer Khot concludes, "The tools we make are very complicated and our ability to deliver on time is of crucial importance - it definitely brings in more business. MyWORKPLAN is a vital part of this process and after analyzing the first results, our delivery performance has improved by around 30%."