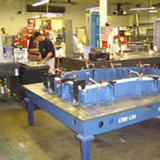 WORKPLAN Keeps Jay Enn Corporation Ahead Of The Competition
Smooth Transition
Jay Enn Corporation, at Troy, Michigan, is a manufacturer serving the tooling needs of the automotive industry in the United States and abroad. With over 40 years in business, Jay Enn is a single source supplier of fixtures and gauges made to customer specifications. The company wanted to manage its business more efficiently and felt an imminent need to replace its outdated manufacturing system. Jay Enn decided to invest in a software solution that could address the unique business processes of a custom manufacturing shop. The immediate choice was WORKPLAN from Sescoi, the only ERP (Enterprise Resource Planning) software for custom manufacturers of mould, die, prototype, fixture and single part/small batch manufacturing organisations. Joseph S. Arwady, Quality Systems Manager at Jay Enn Corporation said, "Implementing WORKPLAN has helped our company become more efficient in today's fast paced automotive industry, thus saving us time and money. The great support from knowledgeable staff at Sescoi has made the transition from our outdated manufacturing system to a new and exciting system smooth and hassle free."
"WORKPLAN has proven itself to be user friendly and easy to maintain. It has freed up time, allowing us to focus accurately on paying jobs, while utilising up-to-date information. From the start, savings in time & money have been significant."

Jeffrey Baroli, Vice President & General Manager, Jay Enn Corporation.
Fast quotations
WORKPLAN allows Jay Enn's sales team to search and display past quotes by criteria. Similar quotes can be copied, including full details of the construction of the tool, and terms and conditions. Quotations for new work can now be completed and delivered to the customer 5- times faster than before. In addition, the tracking functionality allows continuous monitoring of the status of each quotation, allowing the team to know instantly where they stand on past quotes; accepted, denied, reasons for denial, etc. Furthermore, WORKPLAN templates for quotations, delivery notes, and other documentation enable printing from Microsoft Word directly onto plain paper, eliminating the need for special stationery. Jay Enn uses this function for almost all its correspondence from quotation through to delivery.
Rapid, profitable turnaround
Sales order processing is very fast. Once the order has been received, it only takes minutes to set it up in WORKPLAN and get it to the manufacturing floor. This produces a rapid turnaround time, important in the fast paced automotive industry. In the workshop, tracking of time spent on each job, and allocation of human resources and equipment is carried out in realtime. This information is an excellent tool for the shop floor manager to see instantly the status of each job, its progress, and its stage of manufacture, together with current data on shop floor and work area activities. Live information also makes it possible for Jay Enn to monitor the profitability of the job as it passes through the factory.
Quality first
Reliable and instantaneous information is invaluable for QS- 9000 TE tracking. Joseph S. Arwady commented, "With WORKPLAN we made the Quality manual easily accessible to everyone in the shop, allowing for a paperless system saving both time and money. WORKPLAN is flexible enough to adapt to any system, important for us when working with the Automotive Standards (QS9000-TE)."
Purchasing and accounting
Purchasing functions within WORKPLAN provide powerful tools to track the material orders for jobs. Jay Enn is able to create purchase orders faster and more accurately than ever before. The benefit is a shorter delivery time on bought in material while still complying with automotive quality standards, resulting in a reduction in manufacturing time for its own products. Links to Jay Enn's accounting software, Peachtree, give further enhancements. Supplier invoices are exported from WORKPLAN once necessary checks have been completed, enabling close integration between the systems.
Competitive edge
Jay Enn takes full advantage of the report generating features in WORKPLAN, using them to gather vital data. It has also used them to recall existing reports and create new ones, allowing the measurement of a wide range of performance criteria. Jay Enn cannot emphasise enough WORKPLAN's capabilities as a manufacturing software package which has helped it to stay up with the times, and keep an edge over its competitors. The company has since purchased and implemented other Sescoi products: WORKNC, WORKNC-CAD & direct CAD file translators. These are highly sophisticated CAM/CAD systems for moulds, tools & dies, providing further benefits to Jay Enn through automation, reliability and ease of use. Joseph S. Arwady enthused, "Words cannot justify the multifaceted abilities of WORKPLAN. You need to see it work in a real setting to appreciate the scope of this product. If I had to sum up WORKPLAN in one word I would have to say awesome.