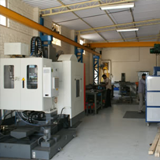 Kraftsman Tooling saves 35% administration time and anticipates 30% growth in turnover thanks to MyWORKPLAN
Auto molds for India and Export
Sescoi's MyWORKPLAN job management software has had a considerable impact on the way in which Kraftsman Tooling manages the manufacturing of its plastic injection molds. Formed in 2005, Kraftsman Tooling, based in Pune, India, specializes in the production of molds for leading automotive companies including Tata Motors, Tata Autocomp Plastic Systems, and Minda Valeo. It is growing its export business with customers in the UK, Italy and Germany as well as India, currently employs 27 people at its two sites and has a turnover of 30 million rupees.
"Based on the results we have achieved so far, we are anticipating that MyWORKPLAN will enable us to grow our turnover by 30%, thanks to the accurate quotations it produces and the cost and performance control it imposes on production"

George Joseph, Managing Director
From spreadsheets to simple to use software
In addition to manufacturing injection tools, the company offers engineering services for product and mold design, and molding feasibility analysis. George Joseph, Managing Director explains his reasons for installing MyWORKPLAN. "We needed a more systematic approach to managing our quotations, the progress of manufacturing, and the ongoing costs of our tools. Previously, we were using spreadsheets, which made it very difficult and time consuming for us to keep track of costs and events." MyWORKPLAN is able to import existing data so that knowledge and experience built up over the years can be incorporated into the system as historical data. The quotation module in the software is able to draw on this information as well as the latest cost and time data accumulated from new jobs processed in MyWORKPLAN, enabling highly accurate quotes to be produced in just a few minutes. George Joseph says, "We can look up similar quotes and check on our performance when the job was manufactured, allowing us to anticipate likely problems and incorporate the cost of the mold base, any side cores or lifters, and estimate the machining costs for each element of the tool. Menus guide us through the system, ensuring that we have not missed anything, quickly generating an accurate cost for the whole mold."
Real time snapshot of activity
Once the quotation turns into an order, the data built up in the quotation stage of MyWORKPLAN is transferred into the scheduler, where more detailed planning takes place. This considers the human and machine resources available, allowing the company to arrive at a realistic delivery date and a schedule of the necessary work required to finish the job. MyWorkPlan also enables the company to have a snapshot of the current status of production in real-time, tracking the progress of each job, employee time and attendance, and the ongoing costs of manufacture. George Joseph adds, "We can compare actual performance with our budget. The scheduler generates job sheets detailing what each machine needs to do in the next shift, and forecasts the hours required for each operation. Feeding back the actual events into the system as they occur allows us to check that we are on target with our cost and delivery objectives, and take appropriate action to correct any deviations from the plan at our daily progress meetings."
Fast start implementation
Before the implementation of MyWORKPLAN of Kraftsman Tooling was concerned that installation and training would take up too much time.
However, applying Sescoi's Fast Start implementation methodology, the quotation module of MyWORKPLAN was first installed, followed by the job tracker and scheduling modules. Phased installation allowed the company to quickly get to grips with the software and build up its expertise. George Joseph adds, "We are very satisfied with the performance of MyWORKPLAN, it does everything we want it to. The screens are intuitive and the software is easy to use and includes tutorials to cut the learning curve. The support we get from Sescoi is both excellent and enthusiastic. Its engineers helped us to rapidly set up and tailor the system to suit our cost centers and hourly rates. Documentation for every aspect of the job is stored centrally and is now at our fingertips. It has given us a 35% time saving running the business, leaving us more time to spend on other tasks."
More control, more growth
The company can now give its customers much more accurate delivery dates and can ensure that they are consistently met by utilizing the automatic alarms which give warnings when tasks are delayed and the resource loading list which helps Kraftsman Tooling to manage its workshop loading, greatly improving customer satisfaction. Accurate quotations ensure that realistic and competitive prices are being quoted, giving Kraftsman Tooling the chance to win more business and deliver it at a profit. George Joseph concludes, "We are much more in control now and I don't have to continually chase after people for information - I can look it up for myself, which saves a lot of time. Additionally, based on the results we have achieved so far, we are anticipating that MyWORKPLAN will enable us to grow our turnover by 30%, thanks to the accurate quotations it produces and the cost and performance control it imposes on production. We needed the system to enable this expansion to happen - it has become an essential part of our business."