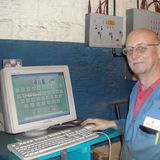 Esdale gets more productive with WORKPLAN
Tooling manufacturer chooses WORKPLAN
WORKPLAN from Sescoi has significantly helped to increase efficiency and reduce administrative load at Esdale Tooling Limited. Based in West Yorkshire, UK. The company produces molds for automotive parts, PET bottles for products such as detergent and mouthwash and a range of modular storage boxes which start at 200cc and go up to 84 litres. Currently, Esdale Tooling Ltd. produces approximately 150 new tools each year as well as carrying out hundreds of repairs and modifications.
"Administration has gone down dramatically. It would be very difficult to operate without WORKPLAN."

David Eastwood, Technical Manager
Drive for efficiency
The company's previous job management system was 12 years old and reaching the end of its useful life. David Eastwood, Technical Manager said, "We are always looking for new ways to improve our efficiency through using the latest technology. When we saw WORKPLAN we could see that it would do exactly what we wanted, and more." WORKPLAN has been designed for custom manufacturers and has been developed around the needs of the toolmaking industry, using Sescoi's 20 years of experience in this sector.
Historical data
Starting with a quotation, WORKPLAN enables Esdale Tooling Ltd. to use its skills to build up costs from historical information about how previous tools were made, using the rates for each task such as CAD/CAM, tool design, and gun drilling. Additionally, where the work is replacement, modification or repair, the complete history of the tool is stored in the system. This enables the company to look back through design iterations, manufacturing methods, and component and material sources to offer full traceability which benefits both Esdale Tooling Ltd. and its customers. David Eastwood added, "Having this level of detailed information makes it possible for the quotations to be very accurate, allowing us to discuss elements of the tool and product design with our customers to reach an optimum solution for both cost and quality."
Rapid deployment
The change over to WORKPLAN was completed in one step, once the cost centers and employee information had been set up. David Eastwood said, "The installation was not difficult thanks to the support we received from Sescoi. Its service has been very good, implementing our special requests into the software and setting up reports to suit our company." Improved cash flow Once Esdale receives an order, WORKPLAN automatically transfers the information in the quotation to the works order. The system also keeps track of stock, to ensure that it is used up before more parts and material are purchased, producing a positive impact on cash flow. Having a schedule in WORKPLAN for the construction of the tool helps further, as mold plates are ordered at the general assembly drawing stage, while items like ejectors are only ordered as the tool gets to the fitting stage.
Precise costing
Esdale has ten WORKPLAN terminals around its offices and shop floor. These allow employees to clock on to jobs, and managers to analyse the progress and costs so far. David Eastwood said, "Staff and resources are always logged on to a task. We track machines and operators separately, as an operator may be working more than one machine. This makes it possible to precisely allocate the costs to each job." By using the terminals around the factory, WORKPLAN has created a paperless working environment with live reporting of events. The system also keeps track of quality issues. David Eastwood added, "We save non conformance reports, and rectification notifications, which allows us to examine patterns of non conformance, find out what went wrong and take corrective action."
Performance monitoring
The reporting within WORKPLAN allows managers at Esdale to check the profitability of each tool as well as on time delivery performance, which has a direct impact on cash flow. The software links to Sage, Esdale's accounting package, and produces documentation such as delivery notes, stock sheets and invoices which are all now amalgamated into WORKPLAN, greatly reducing administrative workload. David Eastwood added, "By simplifying and automating routine tasks, WORKPLAN enables staff to be redirected to more productive work. Day to day administration has gone down dramatically and it would be very difficult to operate without it."