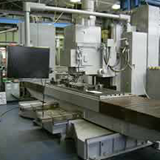 Hewmor Products press on with WORKNC and WORKPLAN
Transition to CNC
When the current management of Wolverhampton based Hewmor Products Ltd, took over the company in 1992 they started with 5 Keller copy mills. In 1995 the transition to CNC began, gradually replacing all the copy mills and building up to currently 11 CNC machining centres.
"We had WORKNC here on trial, and with just a half day of training, we were cutting the next day. We didn't want to give it back!"

Andy Bond, Managing Director
Press tool leader
Hewmor is a leader in automotive press tooling and a specialist in aerospace press tools, particularly hot form press tools, and SPF (super plastic forming) press tools, which are used to form exotic materials like titanium. It also produces jigs, fixtures and prototypes, verifying not only the design feasibility but also the practicality of the production process.
Increasing programming load
With three CNCs, Hewmor's existing CAM system was adequate, but as more machines were added it was not possible to keep up with the programming load, making it necessary to reevaluate the software it was using. Andy Bond explains, "I saw WORKNC at one of our customer's factories. We had it here on trial, and with just a half day of training, we were cutting the next day. We didn't want to give it back!" WORKNC provided a completely new slant on programming methods for Hewmor. Graphical editing of the toolpath made it easy to control where cutting occurred, while calculation times were faster by a factor of 4. Batch processing which allows several programmes to be automatically calculated out of hours further improved productivity at Hewmor.
Toolpath editing & stock model
Every product is unique at Hewmor, making it necessary to create new programmes for each job. WORKNC allows the company to copy machining strategies between similar jobs. Any small adjustments to the process are easy to complete with this functionality. The hot form tools and SPF tools are manufactured from cast stainless steel, which is particularly difficult to cut. Toolpath editing, and stock machining are valuable for these applications, as is the ability to control where small finishing tools are cutting, avoiding coming across unexpected material which could result in tool breakage.
Easy programming
To provide flexibility four people are able to programme Hewmor's one seat of WORKNC, which currently feeds the 11 CNC machine tools. The company has plans to increase the size of the factory by 33% with additional machine tools, yet with the speed and ease of programming of WORKNC it envisages that it will still only require the one seat. Andy Bond commented, "Operator involvement has been vastly reduced. Programming of our 11 machines would have been very difficult to achieve without WORKNC."
Move to WORKPLAN
With a rapidly expanding business, Hewmor was already winning large tooling projects varying in size up to 30 tools. Registered for ISO 9001: 2000 it had reached a critical size when more control was needed on purchases, traceability and materials, and at the same time maintenance of its ISO registration. Three licenses of WORKPLAN Sescoi's ERP (Enterprise Resource Planning) software were installed at the beginning of 2003. Within 12 months quotations, sales monitoring, time and attendance, purchase orders, and sales orders were all being controlled by WORKPLAN. Recording job times using terminals on the shop floor keeps track of job progress and hours spent on each operation, enabling planned time to be compared with actual performance. Accurate cost figures for tooling, traceability, and goods received can now all be checked and analysed very easily. "The transition was definitely worth the effort, control has been greatly improved," said Andy Bond. "Our manual costing system has been virtually automated now. If something is going off course we can find out and take remedial action very quickly indeed."
Reduced administration
WORKPLAN has eliminated much of the administration, and avoided the need to add extra staff. In the past four years Hewmor has at least doubled its turnover, and with the help of WORKPLAN it has been able to achieve this with the same levels of administrative resource.
Understanding business needs
Andy Bond has been pleased with the support and training he has received from Sescoi UK, "They have provided excellent on-site training and responded to support problems very quickly, fitting around our business pressures." Relying on Sescoi for CNC programming and business administration has proved to be a wise choice for Hewmor.