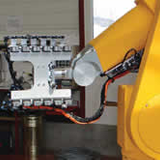 Guignard : from the plastics industry to special machines with WORKPLAN
Company profile
Bernard Guignard started designing and marketing small sprue bushing channel extraction manipulators in 1981. The business soon took off and in 1988, Bernard Guignard, decided to create a limited company - 'Guignard Automatisation SARL' was born. With headquarters at Viry, near Oyonnax, in France's "Plastic Valley", the company today has 25 staff and achieved a turnover of 2.5 M Euro in 2002 In order to stay ahead of changes within the plastics industry, the company took a new direction in 1998, concentrating its efforts on the design and marketing of 'made to measure' specialised machines for use in a wide variety of manufacturing sectors : furniture, automobile, cosmetics, medical, electrical goods, etc. We had to maintain our existing customer base and also create new markets, and there was also the 'year 2K problem' which had to be managed", explains Franck Guignard, President and Managing Director, "To achieve this we had to rely on our ability to innovate and to exploit new technologies in order to simplify our working methods. Information needed to be standardised and made reliable and, above all, we had to improve and optimise internal communications. We drew up a specifications document, then searched the market for a manufacturing management application adapted to our business."
"WORKPLAN is an ERP system fully adapted to custom manufacturing requirements. It's an indispensable analytical tool, whether used for production, administration, accounting or time monitoring."

Explains Nathalie Puertolas, Managing Director
Controlled implementation
In 1999, WORKPLAN was selected and installed at Guignard. In the first phase of implementation, only the purchasing, stock control and supply scheduling were managed using WORKPLAN. The next stage was to integrate all existing data into the system, which was a relatively easy task in itself, although it meant some changes to working practices . Today there are 11 WORKPLAN licences in the two Guignard plants in Viry and in Lyon, which allow all project managers and their teams to work with a common database. "The specialised machine manufacturing trade demands a great deal of control and responsiveness", declares Rgis Bachelier, Industrial Manager, "WORKPLAN supplies us all with the same information, no matter which department we work in. We can now do real-time status monitoring of an order via 'job management summaries' whereas previously we would only get an order's 'identity card' after delivery, sometimes as long as two months after delivery in certain cases."
Fully adapted to custom manufacturing requirements
WORKPLAN job management software allowed Guignard to successfully diversify its activities and offer customers standard machines, simplification of specialised machines and even the possibility of recycling existing machines according to their requirements. "WORKPLAN is an ERP system fully adapted to custom manufacturing requirements. It's an indispensable analytical tool, whether used for production, administration, accounting or time monitoring" explains managing director Nathalie Puertolas, who, with the rest of the team made the original decision to purchase WORKPLAN.
Partnership
"We needed a flexible and evolutionary tool, easily adaptable to our business and our internal requirements. We were also looking to create a partnership with Sescoi, because the implementation of such a system called for change management and a new way of working . We are totally satisfied on all points. WORKPLAN has become a necessity in our company and Sescoi has always been supportive whenever problems have arisen or when we have wanted to go a step further in the use of the application."
WORKPLAN today at Guignard
WORKPLAN is present at every life stage of an order. Starting with the quote, WORKPLAN allows the purchasing department to process purchase orders according to budget. The engineering department, either at Lyons or at Viry, has all the information needed to design the machine on any CAD system, the workshop manager can then organise his teams and their workload (time monitoring is carried out by barcode readers). During the whole process information is input just once and serves as a reference for all departments working on the project. At the end of the chain the accounts department steps in. "No redundant information, no time lost, data is input once and it's so easy to use." adds Nathalie Puertolas. It's no surprise that WORKPLAN has become the backbone of Guignard.