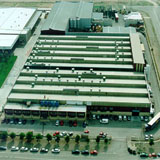 WorkXPlore 3D opens CAD models from 99 percent of sources for Tier 1 automotive manufacturer
Tier 1 automotive supplier
Collaboration with its international automotive customers has become faster and more efficient since Celulosa Fabril started using WorkXPlore 3D high-speed, view and mark-up software from Sescoi.
Based in Zaragoza, Spain, Celulosa Fabril specializes in injection molding including gas assisted and low pressure back injection for foils; and thermoplastic welding, using vibration, infrared and ultrasonic techniques. Its customers are automotive OEMs such as Ford, Nissan, Renault, Seat and Peugeot and it produces instrument panels and consoles, interior trim including door panels, load compartment trims and back injected interior trims as well as exterior and functional moldings such as spoilers and vacuum reservoirs.
"The software allows us to quickly open files from our clients without using specialist CAD software, speeding up our response to enquiries and making it quicker and easier to produce our quotations"

Carlos Baratto, Engineering Director
Handling a wide range of CAD formats
Due to its range of customers and suppliers and the different CAD systems they use, the company must accept design data in a wide range of formats. By installing WorkXPlore 3D, Celulosa Fabril has been able to read and share the vast majority of CAD files.
Carlos Baratto, Engineering Director says, "We can open more than 99% of the design files our clients send to us in WorkXPlore 3D. These come in many formats including CATIA, UG and STEP. We can then cut sections and take measurements. For our suppliers who don't have viewing software we can also create lightweight executable files which we can send to them. With these executable files our suppliers can view, rotate and even take simple measurements from the model without any special software." WorkXPlore 3D is designed to enable companies to work with customers and supply chains by encouraging collaborative and concurrent working. It is able to read a wide range of CAD formats and can open several model simultaneously.
Flexibility and productivity
New Brep and 64-bit technology in the latest version of WorkXPlore 3D increase speed and enable the system to accurately find edges and recognize geometric forms increasing the software's ability to analyse CAD data and check features such as draft angles and dimensions. Users can add text and comments and due to its low cost configuration, many more people within an organization and its supply chain can be involved in the design to manufacture process, minimizing the possibility of error, optimizing methodology and compressing lead times.
Carlos Baratto adds, "The software allows us to quickly open files from our clients without using specialist CAD software, speeding up our response to enquiries and making it quicker and easier to produce our quotations. We no longer have a bottleneck in reading CAD files as WorkXPlore 3D enables us all to open them ourselves, using the floating licences which further add to flexibility, resulting in improved productivity."
Collaborative working
The ability to share data with suppliers is a big benefit for Celulosa Fabril as it can use WorkXPlore 3D to convert designs into IGES format for use in other software. Tasks include flow analysis, toolmaking and simulation. Its objective is to involve staff at an early stage of development to ensure a robust process and a manufacturable design.
Carlos Baratto comments, "We can import and save CAD files in WorkXPlore 3D format and then produce an IGES file or, for companies that do not have viewer software, an executable file which will allow them to view and analyse the design. Furthermore, Sescoi's support of the software has been quick and knowledgeable, enabling us to rapidly make the best return on our investment."
Viewer reliability
He concludes, "WorkXPlore 3D has been a real boon for our R&D department. We have had other viewers, but we always had problems with updates, for example when the client updated its version of UG or CATIA, the software would no longer work. With WorkXPlore 3D we have not had this problem as it is frequently updated in line with new CAD system software releases. We haven't had any problems and it opens 99% of our client's models."