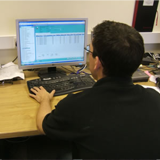 Sescoi enables fast quotations and flexible management at Pentaxia
Sescoi's WorkXPlore 3D high-speed CAD viewer, and its MyWORKPLAN jobshop software, have enabled Pentaxia Ltd to produce accurate tooling quotations in less than 20 minutes. The rapid response to enquiries is essential to its business as the company, located in Derby, produces patterns and tooling used in the production of composite panels for Formula 1, aerospace and defense applications.
"I can examine the model data from many sources myself, without the need to use one of our CAD systems, which would otherwise interrupt our designers."

Stephen Ollier, Managing Director of Pentaxia
Stephen Ollier, Managing Director of Pentaxia, says, "Motorsport is an extremely fast moving environment with rapid design changes, so our ability to interpret designs, check material prices, and estimate machining times quickly enables us to offer competitive prices, ensure the job is profitable for us, and win more business." As well as providing a service to several leading F1 teams the company has produced molds for a diverse range of parts including aerofoil shapes, bulletproof doors, components for Ferrari World in Abu Dhabi, and for Roman Abramovich's Mega-Yacht 'Eclipse'.
The WorkXPlore 3D CAD viewer enables the company to read in and interrogate designs from a wide range of CAD software. Stephen Ollier adds, "I can examine the model data from many sources myself, without the need to use one of our CAD systems, which would otherwise interrupt our designers. I check draft angles, which helps in 5-axis CNC machining, and calculate block sizes in preparation for producing the quotation in MyWORKPLAN. The ability to load down a trial copy of WorkXPlore 3D was really helpful, making purchase of the software an easy decision."
By adding MyWORKPLAN job shop software, Pentaxia was able to link the design interrogation into the quotation preparation process. Stephen Ollier says, "Once we have established the block size in WorkXPlore 3D we can use the material prices and the machine rates stored in MyWORKPLAN to calculate the price. Previous quotations can be accessed so that historical information about similar parts can be used. This helps us determine realistic cycle times for each operation, ensuring that we are competitive and that every job produces a profit. Being able to produce these quotations on my own, without waiting for anyone else, is very important to us. We can respond to enquiries in 20 minutes or less and, in our business time is of the essence."
Once a job becomes an order, the WorkXPlore 3D and MyWORKPLAN quotation information forms the basis of the job documentation. More detail is then added for production, and as manufacture progresses further information is added, for example, job sheets with detailed operations, design revisions, inspection reports, invoices and delivery notes. Stephen Ollier says. "We are ISO 9000 approved and we want to gain aerospace quality approvals. The way in which MyWORKPLAN groups all the documentation for each project in one place is brilliant. It will help us to meet our quality targets, and it enables us to respond straight away to any questions asked by our customers or suppliers."
The MyWORKPLAN manufacturing software and the WorkXPlore 3D CAD Viewer and analysis software have been designed with ease of use in mind and include tutorials to make operation and installation as simple as possible. Sescoi installed and tailored the software to suit the needs of Pentaxia, enabling it to become productive extremely quickly.
Stephen Ollier adds, "Installation of MyWORKPLAN was completed with hardly any disruption, and we find that it is far more flexible and intuitive to use than our old system. We can enter the documentation cycle at any point, allowing us to short cut many processes, speeding up administrative tasks immeasurably. The software is the backbone of our document and job management, is straightforward for anyone to use, and is a common tool for everybody at Pentaxia."